The iKey Plastic Hotel Key Cards are used to permit customer access to their rooms. Your logo goes on the front of the Hi-Co or Lo-Co hotel key cards with your address and contact details plus a Lo-Co magstripe on the reverse.
After recently delivering the best hotel key card in NEW ZEALAND to one of our clients we are extremely pleased to offer old and new clients the ULTIMATE IN HOTEL KEY CARDS – the perso i-Key. TAGGS-R-US will produce your card stock and even print your clients name, reservation number, arrival/departure date, room number and short message on the reverse of their iKey (hotel key card).
How about a GLITTER GOLD or GLITTER SILVER card for those regular corporate guests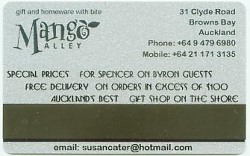 TAGGS-R-US, we aim to keep 1 step ahead of the competition!
Need 500 temporary key cards – we can do it in just a few hours, BEAT THAT!
Dramatically reduce the cost of this commodity and tie-up with one of your preferred suppliers by selling the reverse side of your card to advertising. In NEW ZEALAND we have the BEST concept for a reciprocal agreement.
See our NZ Hotel Door Lock system page for details about our MIWA AL5H full lock, card and software system.
Full pricing on our Plastic Tag Products page.
With a constant emphasis to improve upon our products and services Taggs-r-us would like to make potential clients aware of recent equipment upgrades. This enables us to offer you:
BETTER prices
BETTER quality products
BETTER service
FASTER turn-around
QUALITY marketing opportunities (discounts and reciprocal agreements)
SUPERIOR artwork and design
With a choice of the following electronic Hotel key card features:
Hi-Co Key Cards
Lo-Co Key Cards &
Smart Cards.
With the recent purchase of an HP digital print press, the only one of its kind in New Zealand, and also NEW laminating equipment, we are confident we can improve upon your existing hotel key cards and still offer some of the most competitive costs in the world for this commodity.
With a constant growing list of customers we SPECIALISE in supporting the Hotel Industry & travel related services with a range of products specifically for this market sector.
Try us today. Request some FREE Hotel Key Cards samples and a NO OBLIGATION quotation.
Let us show you how professional we are with our service, how competitive we are with our cost and ways that your company and its clients can benefit from purchasing products from us.
– Try some background reading about how electronic cards are the key to hotel safety.
– Hotel Key cards can't be used for identity theft. They don't store guests' personal information.
–